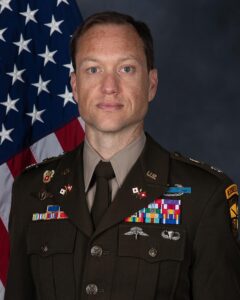 LTC Thomas Gaines
Professor of Military Science
gainestl@nullwfu.edu
336-758-5541
Biography.
LTC Tom Gaines is an Army Signal Corps Officer who was commissioned from the University of Tennessee in 2005. His first assignment was as a rifle platoon leader with 5-20 IN Battalion 3/2 Stryker Brigade Combat Team out of Fort Lewis, WA. He deployed with his platoon for 15 months in 2006 to Mosul, Baghdad, and Baqubah, Iraq. After his first deployment, he transferred to 2-3 IN Battalion where he served as the Battalion's communications officer and assistant operations officer deploying again in 2009 to Diyala Province in Iraq.
LTC Gaines attended the Signal Captains Career Course in Ft. Gordon, GA with a follow-on assignment with the NATO Communications Services Agency in Naples, Italy as the Chief of Computer Information Systems Operations where he served from 2011 to 2014. Following this assignment, LTC entered into the special operations community, where he served for eight years in multiple roles including as a company commander, battalion operations officer, executive officer.
His awards and decorations include the Bronze Star, Meritorious Service Medal, Defense Meritorious Service Medal, Purple Heart, Army Commendation Medal, Iraq Campaign Medal, Operation Inherent Resolve Campaign Medal, Operation Unified Protector Campaign Medal, Ranger Tab, Combat Infantryman's Badge, and Military Freefall Parachutist Badge.
LTC Gaines has a bachelor's degree in history from the University of Tennessee and a master's degree in adult education from Kansas State University. In his free time, Tom is a sailor, pilot, diver, skier, cyclist, and runner.
Teaching and Research Interests.
Leadership
Narrative creativity
Organizational creativity
Low-data decision making
Publications.
Bunch, G., Gaines, T., "How to Lead Organizations Through the COVID-19 Crisis," Chicago Booth Review, Summer, 2020, pp. 70-71.
Fletcher, A., Gaines, T., "The Limits of Logic: Why Narrative Thinking is Better Suited for the Demands of Modern Combat," Modern Warfare Institute, Oct 2021, https://mwi.usma.edu/the-limits-of-logic-why-narrative-thinking-is-better-suited-to-the-demands-of-modern-combat/.
---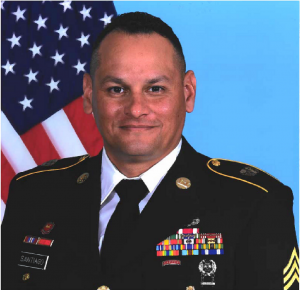 MSG Francisco Santiago
Senior Military Instructor
santiagf@nullwfu.edu
336-758-5446
Master Sergeant Francisco Santiago Jr. is a native of Cleveland, Ohio and he enlisted in the Army in October 2000. He attended basic training and advanced individual training at Fort Leonard Wood, Missouri.
MSG Santiago has served as a Team Leader with 326th EN BN Fort Campbell, KY, 82nd EN BN, Bamberg, Germany, and 4th EN BN, Fort Carson, CO, a Squad Leader with 4th EN BN Fort Carson, CO, and BSTB, 1BCT, Fort Drum, NY, a Senior Drill Sergeant with 1-34th IN BN, Fort Jackson, SC, a Platoon Sergeant with 92nd EN BN, Fort Stewart, GA, a Senior Tactical Advisor with USASATMO, Panama City, PA, and a 1SG with 569th Mobility Augmentation Company (MAC) 4th EN BN, Fort Carson, CO.
His stateside assignments include Fort Campbell, KY, Fort Carson, CO, Fort Drum, NY, Fort Jackson, SC, and Fort Stewart, His overseas assignments include Germany, and Panama. He has deployed to Oman in support and training of Omani National Forces, 2 tours in support of OIF, and 1 tour in support of OIF. MSG Santiago's military education includes Basic Leader Course, Advanced Leader Course, Senior Leader Course, Master Leader Course, Sapper Leader Course, Air Assault, Drill Sergeant School, 1SG Course, Dismounted CIED, R2C2-Leader, Basic Instructor Course, Security Assistance Management Team. His civilian education includes a high school diploma from Lincoln-West High School and 34 hours completed toward his undergrad.
MSG Santiago's awards and decoration include the Meritorious Service Medal, the Army Commendation Medal (7th award), the Army Achievement Medal (6th award), Valorous Unit Award, Meritorious Unit award (2nd award), Army Good Conduct Medal (6th award), National Defense Service Medal, Afghanistan Campaign Medal, Iraq Campaign Medal (3 combat stars), Global War on Terrorism Expeditionary Medal, Global War on Terrorism Service Medal, Noncommissioned Officer Professional Development ribbon (4th award), Army Service ribbon, Overseas Service ribbon (3nd award), Nato Medal, Drill Sergeant badge, Air Assault badge, and Sapper tab.
MSG Santiago is divorced and has a son Francisco (7).
---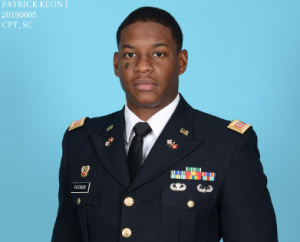 CPT Keon Patrick
Assistant Professor of Military Science
patrick@nullwfu.edu
336-758-5309
Keon J Patrick is a Signal Officer Captain in the US Army. He was born in Washington D.C., but was raised in the United States Virgin Islands. CPT Patrick attended the Reserved Officer Training Corps (ROTC) Program at Bowie State University, Maryland from 2012 – 2014. As a Cadet, he was a fast learner and as a result of his hard work and dedication, he was assigned Cadet Battalion Commander and later graduated top of his ROTC class.  He was also the only Cadet selected for Active Duty in his year group (YG) 14.
CPT Patrick had ambitions to commission as a Signal Officer, but after a few conversations with an influential mentor, he decided to volunteer for the Branch Detail Program and experience the Maneuver side of Combined Arms Operation. As a result, he was commissioned as a Field Artillery Officer.
Anxious to start serving, CPT Patrick volunteered for his first assignment as a Cadet Counselor at the Cadet Training Camp in Ft Knox, Kentucky for 2 months. After completion, he attended FA Basic Officer Leader Course (BOLC) in Ft. Sill, Oklahoma for 6 months. Following his BOLC, CPT Patrick received orders to PCS to Schofield Barracks, Hawaii where he became part of the 2nd Brigade 11th Field Artillery "On Time" Battalion. There, he served as a Company Fire Support Officer (FSO) for 1-21 Infantry, Targeting Officer and BN Fire Support Officer for 1-27 Infantry and Battalion FSO while still a First Lieutenant.
After 7 months of Targeting/ BN FSO time, CPT Patrick decided to prepare for his future duties as a Signal Officer so with his Battalion Commander's approval, he branch out of the Artillery world and found himself as a Signal Platoon Leader for Charlie Company of 65th Brigade Engineering Battalion (BEB). After serving just 6 months as a Signal Platoon Leader with a Maneuver Branch work ethic, his BN Commander hand-selected him to quickly become the Executive Officer of his Signal Company where he served for one year.
Following the Signal Officer Captain's Career Course at Ft. Gordon, GA, CPT Patrick received orders to serve in the coveted 82D Airborne Division. He was assigned the BN Signal Officer for 2-504th PIR, 1st BCT. There, he planned and executed two rapid deployments within 24 hours; combat deployment in support of Operation INHERENT RESOLVE and Defense Support of Civil Authorities (DSCA) deployment to Washington, D.C. As a result of those deployments, operations that were not executed in over 30 years (to deploy anywhere in the world in 24 hours as America's Response Force), CPT Patrick developed the foundation for the current standard operating procedure (SOP) for deploying communications equipment in a Parachute Infantry Regiment. His experience and exceptional knowledge of his craft influenced what is known as today's 82D's Division DIRFSOF. Furthermore, he also facilitated the Army's first equipment fielding and training of ITN prior to its official classification of CS-21 to the entire "White Devil" Battalion during the global pandemic, COVID-19.
Following his two years serving as a "Devil in Baggy Pants", CPT Patrick transitioned to Special Operations which was always one of his main goals. As a seasoned Captain, he served as the G6 Plans OIC for 1st Special Forces Command Airborne (1st SFC(A)) for 12 months, a position assigned to a Senior O-4 Officer. There, he facilitated, planned and implemented multiple communications infrastructure towards current and future Irregular Warfare Initiatives; both Classified and Unclassified. He also discovered that the entire Command was not projected to field the Command Post Computing Environment Platform (CPCE), the Army's latest Mission Command Collaboration Platform and confidently briefed the 2-Star Commander. As a result, 1st SFC(A)'s Commander flew to DC., communicated his concerns to Headquarters, Department of the Army (HQDA) and now, all active Special Forces Groups today are projected to receive a full CPCE fielding; if not already received.
Today, CPT Patrick is the Assistant Professor of Military Science (APMS) of Wake Forest University's ROTC Program, a selfless duty of which he aspired to become one day when he was a Cadet. He always wanted to return to a University to one day contribute in developing the next generation of leaders for the US Army.
During CPT Patrick's 6 years as Commissioned Officer, he's managed to become qualified at Combat Life Saver, Combatives Level 1 and 2, Airborne, Air Assault, Joint Forward Observer (JFO) and Joint Firepower/Controls; earned medals in Meritorious Service, Army Commendation with 'C' Device, Army Commendation, Army Achievement, National Defense, Inherent Resolve Campaign, Global War on Terror, Military Outstanding Volunteer Service, and Army Service.
---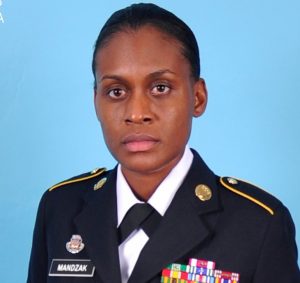 MSG Rachel Mandzak
Military Science Instructor
mandzar@nullwfu.edu
336-758-5544
Master Sergeant Mandzak has served 19 years active duty in the United States Army. She enlisted in 2003 as a Human Resource System Management Specialist.  Prior to serving as a Military Science Instructor for Wake Forest University, Master Sergeant Mandzak held several senior positions from Division G-1, Brigade S-1 and Battalion S-1 to Headquarters Platoon Sergeant and First Sergeant.  Her additional developmental positions include Drill Sergeant and Instructor.
Master Sergeant Mandzak has had additional training as Equal Opportunity Leader, Unit Victim Advocate, Unit Prevention Leader, and Retention non-commissioned officer. Her tours include Germany, Walter Reed Army Medical Center, Washington D.C., Fort Gordon, GA, Fort Jackson, SC, Fort Carson, CO and Fort Hood, TX (two tours). Master Sergeant Mandzak deployments include Kuwait and Jordan. She holds a Bachelor's of Science in Business Management from Colorado State University.
In projected culmination of her military career, MSG Mandzak has goals to retire with 20 years of honorable service. In her free time, she spends time at sports events with family and manages her online retail business. MSG Mandzak is married to a retired Infantry Veteran, Aaron Mandzak and they have four kids and two dogs together.
---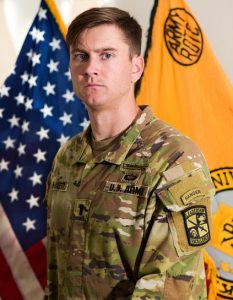 1LT Matthew Plunkett
Assistant Professor of Military Science
plunkem@nullwfu.edu
336-758-5309
1LT Matthew Plunkett commissioned into Active Duty in May of 2019 as an Infantry Officer through the United States Military Academy at West Point. He holds a Bachelor's degree in business management from West Point and is currently pursuing a Master's in Higher Education Administration from the University of Louisville. He is a graduate of the Infantry Basic Officer Leader Course, U.S. Army Airborne School, U.S. Army Ranger School, and the U.S. Army Master Educator Course.
Prior to serving as an Assistant Professor of Military Science at Wake Forest University, he held positions as a Rifle Platoon Leader and Scout Platoon Leader in 3-509th Infantry Battalion located in Anchorage, Alaska.
1LT Plunkett is married to his wife Kalea, and they are expecting their first child to be born in February of 2023.
---
Mr. Rickey Alexander
Human Resource Assistant
ralexand@nullwfu.edu
336-758-5308